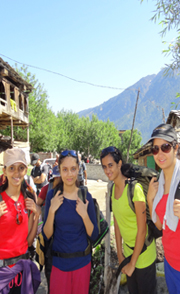 My daughter, Vanshika, is an "outdoor" person at heart and when she learnt from Devaki Srinivasan, a close family friend of the family, of a trek being organized in May 2013 by the Karnataka Mountaineering Association based in Bangalore, she was all excited and wished to sign up. And I was 'roped in' to be the chaperon! The Trek was being led by Vasundhara Srinivasan, Devaki's sister-in–law and a former Everest climber, with whom I had done the Annapurna Base Camp Trek in Nepal in 2001, and I knew we were going to be in good hands.
On the designated day, Vanshika, Devaki and I arrived in time to be a introduced to a group of about 18 young men and women – and some not so young – from assorted places in South India at the Himachal Tourism Office in New Delhi, each with their own individual backpacks. We set off in a luxurious Volvo coach for Manali in the state of Himachal Pradesh. The coach made good time and stopped for dinner at a way side "Dhaba" ( wayside restaurant) at about 9.30P M. The total distance to Manali is 540 Kms and I learnt that there would be a change of drivers at Swarghat – the midway point. Early in the morning, at about 5 PM, the coach stopped at another "Dhaba" – this time for tea. Yawning and tired, we alighted to be greeted by a slight drizzle and the sight of coniferous trees. The plains were behind us, and the morning tea and cookies never tasted so good! The scenery only got better and the river Beas kept us company all the way to Manali – some 50 kms ahead.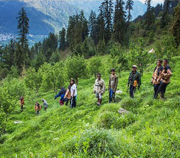 There are few places in the world that can match the pandemonium at an Indian Bus Terminus, and this one in Manali at 7 AM, was no different. Except that all of us were hastily trying to cover ourselves in some woollens. Local representatives were there to assist, and we transferred in 5 jeeps to Prini Nallah – our base camp. A set of tents had been set up, and we were introduced to Khem Raj Thakur, owner of Mountain Expeditions. Mr. Thakur, an unassuming man, has to his credit two attempts to Mt. Everest – failing to climb the peak once – just 70 metres short, on account of bad weather. A wash & change later, we were served a good, hot wholesome breakfast with request to "not waste food" and instructed to wash our own plates and spoon. The practice stayed with us right through the next 6 days. The day was spent in walking to Manali town ( 2230 Mts ) for acclimatization and last minute purchases.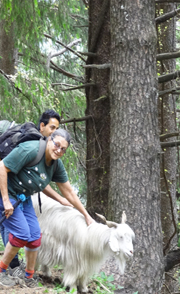 A huge big coniferous mountainside loomed in front of us and the staff pointed out to us a small white "patch" high up. They were the tents at our Camp I that we were headed to. Everyone was handed out windcheaters and small backpacks in which to carry our immediate supplies. The big backpacks would be transported up by "tattoos" (ponies). Mr. Thakur introduced us to Tara Chand, Rinku and Rahul, who were going to be our "guides" on the trek for the next five days. We were handed over our "energy packs" for the day – tetra-pak fruit juice and a bar of Nestle chocolate. A short briefing from Mr. Thakur, goodbyes and good luck wishes exchanged, and we were off!
The long 'string' of 23 trekkers wound its way through the local Prini village, crossed a narrow bridge and started the climb onto the mountain on the other side. The group consisted of men and women, ranging from the eldest at 60, to the youngest being two boys, aged 15, from French-speaking Pondicherry. The group members started getting to know each other in bits, and my daughter, having made friends with four other teenage girls, was way up ahead in the pack! The path lead through another hamlet which provided glimpses of Himachali village life. Far from the maddening crowds of big cities, it was good to see and smell the cows in the backyards, admire local traditional wooden architecture of the houses, meet local "Pahari" women in their traditional dresses busy at embroidery work – with chicks and hens for company and children with running noses.
The path went up and up, not too steep but gradual, passing through fields and step-farming patches of paddy. In the distance, one could see snow-clad mountains. We were being "broken in", like someone mentioned. We would stop for our "water breaks" and look back at the Camp we had left behind. Steadily we went higher till we finally made it to Camp I at Klount (2230 Mts). Our backpacks had already arrived and we were assigned tents. I happened to be paired-off with Ramasesha, professor of Mechanical Engineering at Mysore University and the eldest member amongst the group.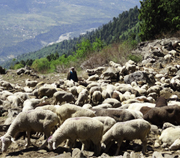 There was a "Mess" tent which served as kitchen and "resting area" for the guides and staff. After lunch and some rest, we were led away to a grassy patch where they conducted "Jungle Gym" – an almost vertical maze of netting on which one had to climb with a rope, harness and helmet. It was admirable to see almost everyone try their hand at it. The net seems to sway around all the time which makes it tougher – a kind of Army training exercise. A big cheer would resonate when anyone made it to the top. Some free time in the evening and it turned chilly. Pitch black outside, settling into our tents and sleeping bags by the light of torches was an experience at which we only got better with time. Everyone was tired and we slept early. The two boys, Niranjan and Singhan, teaming up with Kumar, a young IT professional from Hyderabad who regaled them with stories late into the night, were the last ones to sleep.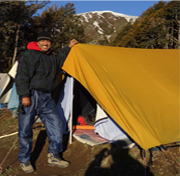 I am an early riser and as I woke up at 5 AM the next day and unzipped the front of my tent, I was greeted by a sight that took my breath away. Ahead of me was a "pink dawn" creeping up slowly behind the Pir Panjal range of snow-clad peaks. I could see almost 120 degree view and Deo Tibba and used my camera in rapid-fire mode!
Some distance away from our sleeping tents, four sets of toilets had been provided – with toilet paper and water in buckets. A work station was available for brushing teeth. The same facilities were available at every camp. Soon the place was abuzz with activity. Smita, daughter of Vasundara and the Deputy Tour Leader, had virtually taken charge of the group. She made a fine sight in her cowboy hat, dark glasses and pink shoelaces on her Quecha trekking boots! Breakfast at 7 AM, a short briefing from her, and we would depart at 8 AM.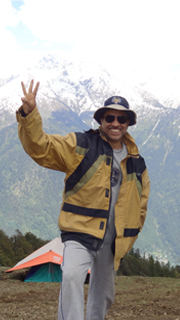 The guides had warned that today was going to be a "tough" day. Passing through meadows strewn with mountain flowers, I remember meeting a group of "Gaddis" – local mountain shepherds who take their flocks in the summer to higher altitudes for grass. The sheep develop more wool and then they saunter down as winter comes in close. It is a lonely life for them and I had nothing but admiration for the hardy men. Someone informed that this particular area abounded with a certain "tick" that could be fatal, and all of us walked a bit faster! Coniferous forests of "Deodhars" (Mountain Cedar) kept us company and then the path led through some trees where the guides pointed out Oak and Maple. There was also some Birch which had its bark flaking off, and a tree which I saw up close for the first time. Sometimes, we passed other groups of trekkers coming in from the top down. And then we finally we saw the steep climb. The terrain changed. The mountain side was barren of trees, soil was furrowed and seemed to be full of burnt tree stumps on account of lightning. The breaths came in sharp gasps, and stops were more frequent. And then suddenly I felt faint. I remember Rinkoo, the young and handsome guide, standing on the edge of a rock, come quickly to my aid. Made me sit and Ambika from Bangalore gave me some Energy drink in the water. After about 5 minutes, I had revived. I took it more easy then and made stops every 20 feet or so. The mountain top was right there as the crow flies, but the endless twists and turns with soggy soil to tread on never seemed to end. There seemed to be three "sets" of trekkers – one lot that was always in the front with Tara Chand, then the middle bunch like me with Rinkoo, and the slower ones with Rahul who brought up the rear. And then finally, it was Camp II at Dudhu Dogh at 2750 Mts.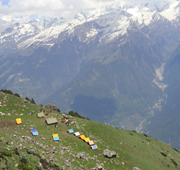 After lunch, the group was invited to a 40 ft. rock promontory that was used for "rappelling". The girls went first and everyone followed. There was a group of friends – Kishan, Ashok, Shiva and Sanjeev – all college mates from the same University in Bangalore and all of them working in the IT industry. They were fun to be with, and made great company. Kishan was excellent with the camera and was deputed as the "official" cameraman with everyone asking him to take their photographs for our days ahead. That evening, the girls went around and collected firewood. Vanshika with her red cheeks had been named "tamatar" ( tomato) by Kishan and also given the title of "Sherpa" by the guides on account of her strength and agility. As we retired in our tents, Ramasesha and I had animated discussions on everything under the sun, and we could hear the girls – Anjali, Shruti, Shreya, Rhea, and Apara singing along with the Guides around the bonfire which went on till 11 PM at night!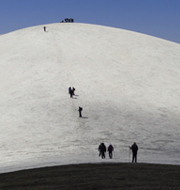 The next day was a slight drizzle for company. We were to get to "Sourtal" (Tal meaning lake) today. As we looked out of our tents, there was an open expanse of gradual mountainside in front. It reminded me of Snowdon mountains in Wales and others that I had seen in Scotland. The initial path was through rocks, lined on both sides by low hardy shrubs within which I could hear mountain birds chirping. Suddenly, the progress slowed down and we stopped. Learnt that Shruti, probably walking too fast was unwell. Vasu and the immediate group took care of her and we proceeded onto the "barren" mountain side. The climb got steeper and climbing was harder. Suddenly, we hit a big patch of snow. Took photographs and kept on with laboured breathing. Then finally, we hit the top! Vasu announced from her watch that we were at 13,400 ft. Surrounded by the Dauladhar range on my back and Pir Panjal range in front, I could see almost 270 degrees of snow-clad mountains. Probably the most awesome sight of my life and definitely worth it!!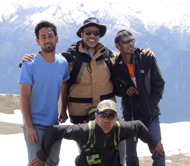 Endless hugs and countless photos later, we started off again. Now we were walking on a plateau till we came to a "dip" and a big patch of snow. Tara Chand informed that this was on account of unusual snowfall. The normal "pass" had been blocked. We started trudging onto it in ones and twos, and I spied Vanshika up there, right in the front. She was helping Tara Chand make "steps" with front of her boots and carve a new path for us to follow. And then suddenly, some 200 metres away, I saw her slip and slide almost 50 feet down the escarpment and I screamed. The friction on her "butt" finally made her stop and I could breathe again. But she was back at it, and slowly we all made it to the rock outcrop. It was a tough climb and Subbu, the strong Army man amongst us, got me to the top by pushing me from behind. Somehow we all negotiated the rocky section. It was the most dangerous piece that we had negotiated.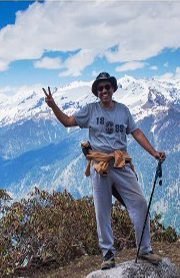 Sitting on top of the world and eating my chocolate piece, I said a small prayer of thanks. And immediately after, as I slung my backpack onto my back, my shoe gave way. The boots were ten years old from my last trek, and regardless of the fact that they were Swiss, they decided to part company. The entire sole came off!! The large –hearted Rinkoo came to my rescue again. He offered me his "flip flops" from his knapsack. We could see Camp –III way down below in a meadow. Others sympathized, and sped past. It was just me and my solitude. And then, about 200 metres from the camp, my flip flops too gave way. The sun was beating down now and I wanted to get to some shade, but those few hundred metres seemed endless as I literally "flopped" along. As I came upon the group, a rising cheer greeted me and I waved my hand in acknowledgement, deluged with a profusion of sympathies when they learnt the story of the flip flops giving way too! I had made it to Laangha at 3370 Mts.
That afternoon, Vasundhara held a "debriefing " session of all the members wherein everyone expressed their views and provided feedback. A sense of bonhomie and camaraderie was in the air. One big, happy family. We had a good bonfire again that night, thanks to the young girls and their enthusiasm, and sat and sang English and Hindi songs by the light of the moon.
The next day was downhill again and we were to reach Base Camp. Ashok offered some "quick-fix" to repair my boots but it was no good. Then Sanjeev offered his sandals and I started off. The fallen dried pine leaves made the path slippery on the downhill and I was thankful for the walking stick that I had bought in Manali. We passed several villages and another group of "Gaddis" and then on a water-break, I had the chance to exchange pleasantries with Vanshika, who was always too far ahead for me to check upon. The gradual slopes now gave way to sharper twists and turns. It started getting rocky and water from tiny rivulets made the soil soggy. The sandals I wore were slippery and I lost my footing twice and landed on my bottom, and Smitha helped me on my feet. I escaped relatively unharmed. The sun beat down on us mercilessly. And then there was a shift in the terrain. Beside a narrow stream, there was no path but endless rocks that one had to jump from one to the other. I wondered if it was a crater on the moon. The head was bent and the eyes bored into the rocks, as one could ill-afford to slip on them. The walk seemed endless, till finally we met a few villagers and a concrete lane appeared. It was Shengchar village. And I remember my muscles in the legs, so used to walking downhill, seemed to get all wobbly now. It was so difficult to walk straight on a level surface like in real life!!
A bus ride of half an hour got us back to the Base Camp. We were welcomed back by Mr. Thakur and the staff and lots of cheers and back-slapping followed. The next day we proceeded on a White-Water Rafting trip down the river Beas. From mountain men, we had become "water babies" and some of us added onto the existing sunburn! That evening, a rough version of "discotheque" was set up to music and we all "chilled" in the Camp. Everyone was euphoric. I was boned- tired and weary, but exhilarated to the core. The panaroma of the snow clad mountain peaks where we had reached the highest point of Sourtal would remain fresh in my memory forever.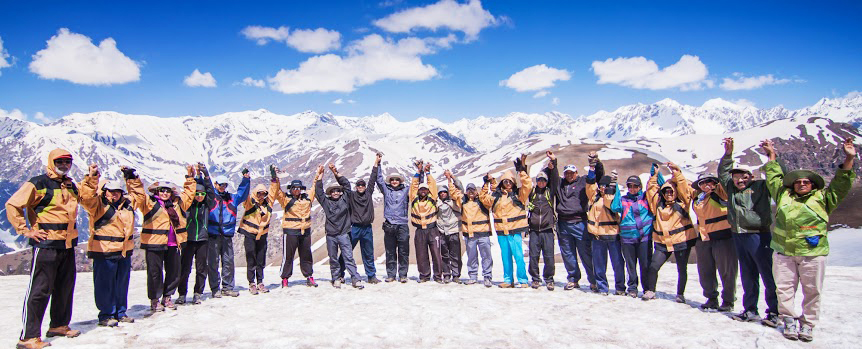 Social Share