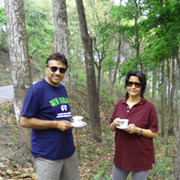 I was with my newly wedded wife Anu in Gangtok for our honeymoon exactly 23 years ago, and ever since, it has become a ritual for us to be "out of town" every anniversary on 27th April! Mrs. & Mr. Melvyn Rothman, our clients visiting India from U.S, second time around with Zutshi Travel World Service, along with two other couples in January 2013, had mentioned about the good time that they had had at the Tea Gardens at Glenburn Estate near Darjeeling, and so I decided to go and "check-it-out" for ourselves!
We landed in Bagdogra at the foothills of the mountains on 26th April & the hotel sent a Scorpio SUV to transfer us to the hotel. I asked the driver to stop somewhere for some tea. He soon complied and surprised us by producing a cane-basket with some sandwiches and hot tea – offered in fine China cups on a tray. Anu looked into my eyes with raised eyebrows and approval & I reciprocated!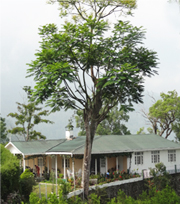 The drive is about 4 hours, but the stunning views make it worthwhile. Jenny, the Manager, greeted us on arrival, stepping off a long verandah with rose creepers that ran the length of the main building, where some foreigners sat sipping their evening tea. The Estate has only 12 rooms in all, and we were led to the section called the Water Lily Bungalow. A bottle of Champagne & a lovely Chocolate Cake in the room was a thoughtful gesture. The bay windows, period furniture and the "two and a bud" designer hand block-printed curtains set the mood for the days ahead.
27th April dawned and I opened the door facing the garden below. A nice, cloudy day and a welcome respite from the heat of New Delhi. Morning breakfast was laid out in an adjoining corridor – the cane furniture all white in colour. The tea cups, kettle, table mats, tea cosy-cover and Worchester cutlery from England, along with different varieties of homemade jams and freshly baked breads made it such a perfect 'English' breakfast.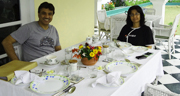 Glenburn was set up in 1859 by a Scottish tea company and successive British Tea Estate managers and their wives, over the years, had all left their presence by decorating the place as per their own taste. Some 10 years ago, the Prakash family, popularly known as 'Chai Wala family' from Kolkata bought the place. Their daughter-in law, Husan-Tara Prakash, painstakingly restored the place to its former glory with the help of Ms. Bronwyn Latif, a renowned interior decorator based in New Delhi. Today, the entire Glenburn Tea Estate, spread over 1900 acres is home to about a 1000 people – including gardeners, drivers, cooks and assorted staff and their families.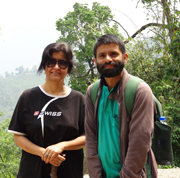 Being fond of long walks, we took up Jenny's offer to hike to their River Lodge adjoining the river Rungeet. Ravi, our guide from the Estate, was an educated man and we walked along the trail surrounded by tea gardens and passing through Bora Gaon village. He explained about the different types of tea grown there and their finer points of cultivation. Observing beautiful, exotic butterflies and birds, he pointed out the varied flora and fauna that abounds in the region and how they were useful to the local populace. I remember seeing the Angels Trumpet for the first time! Then we came to Simbong Tea Weighing Station, where we met a group of about 20 women with rosy cheeks. I could hardly help my eyes creeping sideways to admire their beauty! The ladies were the tea-pickers who had done their "picking" for the day and Anu sat and spoke to them about their lives and exchanged niceties. We then continued on the trail, and some three hours later, we could hear water gurgling in the distance.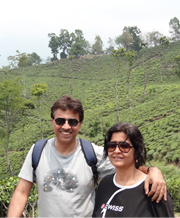 As we cleared a group of trees, we were greeted by a sight of a garden umbrella slung over two chairs & a table with a bright table-cloth, placed next to the banks of river Rungeet. We were the only souls there at the time, and it was so quiet. As we took off our shoes, cold towels appeared instantly followed by chilled beer to quench our thirst. As we sat admiring the view of the river in front of us, lunch consisting of Tandoori Chicken, Pasta, Garlic Bread and Potato Salad ( probably the best I have had!!), along with 'Ginger Banana' for dessert, was served in style.
The lazy lunch went on till almost 4 o'clock. Ravi suggested that we try the water, and we nodded our heads. From nowhere, two pairs of flip-flops were produced. What a thoughtful idea. We soaked our feet. Even though the Lodge here has two rooms on stilts, we preferred to lay on the green grass and snoozed a bit. It was a perfect day – the location, food, the gurgling of the river, the breeze, and the romance in the air. A slight drizzle woke us up when it was time to go. The Almighty had timed even the rain so very perfectly. It had been heavenly!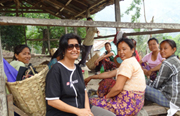 The evening was made even more special today since they knew it was our Anniversary. Jenny was kind enough to arrange the dinner wherever we desired. Candles were lit all around, and we were served a three-course meal with some good Rose wine, on a balcony which we had all to ourselves – overlooking the magnificent Himalayas with only the twinkling lights of Darjeeling in the distance for company. It was a perfect way to spend our Anniversary – picture perfect and seemingly reminiscent of ubiquitous photographs that one sees in travel magazines all the time. We ate & drank & reminisced about all those beautiful years spent together. And I remember telling Anu that it was the "best" Anniversary ever spent in all of our 23 years!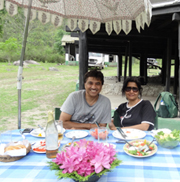 28th was going to be our last day there, so after a leisurely morning breakfast decided to go for short hike to the Shilkari Dure village, accompanied today by guide named Krishna. We were again walking through the tea garden – though on a different route. An hour later we were at "cute" village with proper neat paths to walk on. The houses were all painted in gay colours and each of them – big or small – seemed to have some exotic plants and flowers decorating the front porch or garden. Some had small pots with flowers placed in the windows with laced curtains – reminding us of quaint European villages that we see on our travels.
Krishna guided us to an ancient Hindu temple which smelled of clarified butter and incense sticks. We interacted closely with the 'lady priest' for some time and thanked God for all those beautiful years spent together. On the way back, we sat in the village shop and enjoyed lunch of local cuisine consisting of 'momos' and 'thupka' soup.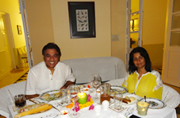 We returned to the hotel, and enjoyed the traditional tea served at 5 PM in the verandah with cake and 'tea leaf pakoras' – quite a novelty for a city dweller. Later at our request, the kitchen staff conducted a cooking class for teaching us how to bake their fresh morning bread and the Ginger Banana dessert that we had enjoyed by the water's edge. The Chef, named Muken Rai, was a handsome young man and I suggested that he was better suited for Bollywood movies. And the others in the kitchen quickly informed that he was indeed a part of the cast for local Nepali sitcoms! A generous helping of black rum poured for the dessert is probably what made the dessert so mouth-watering and tasty.


With a heavy heart on 29th morning, we were in the car by 10 o'clock and bid farewell to Glenburn, with which we had fallen so madly in love with. As we sped thru the winding roads heading down to the Airport at Bagdogra, we passed the blue coloured Darjeeling heritage 'Toy Train' that runs adjacent to the road. A great sight for my memory bank till I go back and board it for a ride some day soon!
And these days, as I sit on my terrace in Delhi and sip my Glenburn tea leaves dipped in hot water ( without milk!!), I am taken back to those heavenly days. Hats off to the management and staff for a job well done. And if ever you are looking for a 'quaint' place to spend some quiet time with your loved one, do let me know and I will arrange a perfect holiday for you.
Social Share