The Indian calendar is a long procession of festivals. If you can find yourself in the right place at the right time, it is possible to go through your visit with a festival each day. The Harvest Festivals of the South, the immersion of Ganesh in Mumbai, the Chariot Festival of Puri, Snake-Boat races in Kerala, Republic Day in Delhi… every region has something to celebrate. Given below is a selection of the major ones, but there are countless others. Please write to us for details.
January / February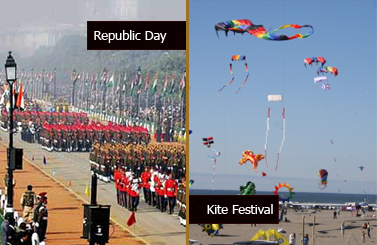 Pongal
Tamil Harvest Festival. Mainly Tamil Nadu, Andhra Pradesh, and Karnataka. 3 days and colorful.
Republic Day
Commemorates the establishment of the Republic on 26th January, 1950. Grand military parade and procession of dancers – Delhi.
Nagaur Festival
Nagaur, Rajasthan. Cattle Fair trading, puppeteers, dances, music, bonfires, turban tying, village sports.
Kite Festival
Ahmedabad, Gujarat. Celebrate the end of winter: International Kite Festival – Competition, Colour & Gaiety.
February / March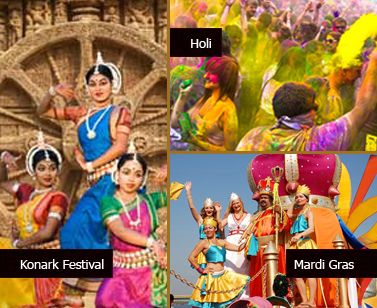 Shivaratri
National: Solemn worship of Hindu deity, Lord Shiva. Fasting and chanting. Special celebrations at Chidambaram, Kalahasti, Khajuraho, Varanasi, and Mumbai.
Holi
Mainly Northern India, named "festival of colors". Advent of Spring. Lively, much throwing of coloured water.
Mardi Gras
Goa: Mainly three days during Lent. Unique celebrations at this Carnival.
Easter
National. Good Friday / Easter Sunday.
Konark Festival
Konark, Orissa. Performance of India's Classical Dances with the backdrop of the Konark Sun Temple. Five days.
March / April

Kumbh Mela
The oldest and most important of the Hindu festivals. Every three years at one of the four great holy cities : Nasik, Ujjain Allahabad and Hardwar. Attended by millions of pilgrims, who take a holy dip in the sacred Ganges river.
Pooram
Trichur, Kerala. New Moon. Spectacular display of giant elephants carrying ceremonial umbrellas around temples. Midnight fireworks display.
April / May
Baisakhi
Northern India. Hindu Solar New Year. Bhangra dancing. Women wear yellow saris.
Id-Ul-Zuha (BakrId)
Muslim, National: Most widely celebrated Islamic festival in India, commemorating sacrifice of Abraham.
Meenakshi Kalyanam
Madurai. Marriage of Meenakshi with Lord Shiva. Colourful temple festival & chariots. Ten days.
June / July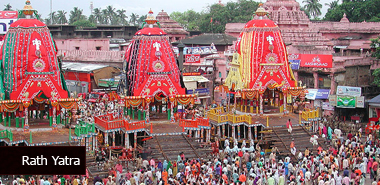 Rath Yatra
Orissa. The greatest temple festival, in honour of Lord Jagannath (Lord of the Universe). Three colossal chariots are drawn from the Puri Temple by thousands of pilgrims.
The Rath Yatra or Chariot festival, one of the much-awaited Hindu festivals, honors the Lord Jagannath's visit along with his siblings – Lord Balbhadra and Deity Shubhadra – to the temple of Queen Gundicha. As many as three new splendid chariots are created for the elegant *Rath Yatra Puri *(the journey) of the Gods – Lord Jagannath and his siblings – every year.
July / August

Teej
Jaipur, Rajasthan. Procession of Goddess Parvati to welcome monsoon; elephants, camels, dancers. Colorful.
Raksha Bandhan
Northern India. Legendary reenactment, girls tie "Rakhis" or talismans to their brother's wrists. Colorful.
August / September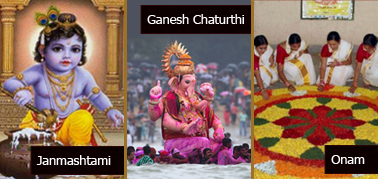 Janmashtami
National. Mathura near Agra. Celebrations of Lord Krishna's birthday.
Onam
Kerala's Harvest Festival; Spectacular Snake Boat races all over Kerala including Nehru Boat Race, Alleppey.
Ganesh Chaturthi
Mainly Pune & Mumbai. Dedicated to elephant-headed God Ganesh. Giant models of the deity taken after prayers for immersion. Particularly worth visiting on the day of immersion at Mumbai.
September / October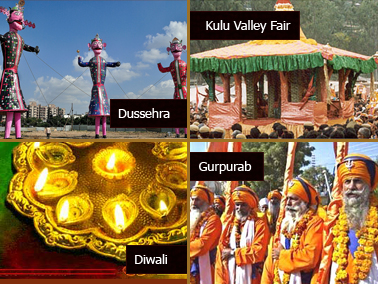 Dussehra
Most popular festival in the country – celebrated in the North and Delhi as Ram Lila with plays and music recalling the life of Lord Rama. Celebrated as Durga Puja in Bengal / Eastern India and as Navaratri in South.
Kulu Valley Fair, H.P
Very colourful and boisterous – to coincide with Dussehra by hill people (10 days).
Diwali
National: The main Festival of the Hindus to celebrate the return of Lord Rama from exile. Fireworks, illuminations and sweets. Marks the start of the Hindu New Year. Lakshmi, the Goddess of Prosperity, is venerated.
Gurpurab
Mainly in Northern India. Anniversaries of ten "Gurus" – spiritual teachers of Sikhism.
November

Cattle Fair
Bihar. Largest Cattle Fair in the world; 1 month Sonepur, Patna; On the banks of the River Ganges.
Pushkar Mela
Pushkar, near Ajmer, Rajasthan. Important and colourful. Camel & Cattle Fair attended by Rajputs from miles around. Camel races, competitions, entertainment, and acrobatics.
December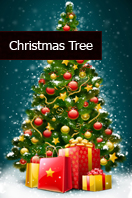 Christmas Day
National: Most exuberantly celebrated in Goa, Mumbai, Kolkata, and Kerala.